And then there was
colour
We're not the only paint shop out there. So what makes us different?
Our palette. Our samples. Our delivery.
You do what you're good at…
...because we did the rest. We know there are a million colours out there. That's exactly the problem. Where should you start? At blisspaint, we've done some of the work for you. Our experts have the eye—and we dare say the gut feeling too—to match up colours in a simple palette that works. Of course the final choice is still up to you, but we made that easier too. We won't bother you with sample paints, we send awesome colour swatches. Just stick them to the wall, take a step back and decide. If it's "nah, almost", then try again. The swatches work as easy as a post-it and what you see is what you'll get.
All paint, no pain
So, there's that. You selected the colour that fits your space. Next up? We send what you need. Yes, that includes the brushes, the rollers, the tape, the trays. It all goes into the same box that we deliver at your doorstep. At blisspaint, we created a one-stop shop where you only have to dip a brush to get going. If you don't know your way around primers and technique, we've got you covered too. That checklist will tell you what to do and what to avoid. We would never call you a dummie, but there is no harm in making things easy, is there? You're welcome!
We've been there too
At every turn in our lives, we've been to paint stores. When we moved to a student house—when we moved in together—when we cleared up that room for the baby. On all these special moments, we entered the store with great expectations. We could not wait to pick the colours to match our fresh start. But then the mood dropped: too many options, friendly service but no style, and no way to see how the colour would fit our space. We wanted to change that. That is how blisspaint got started: we made expert choices in the palette, made samples practical and took care of smooth delivery. Just to put back the fun in painting.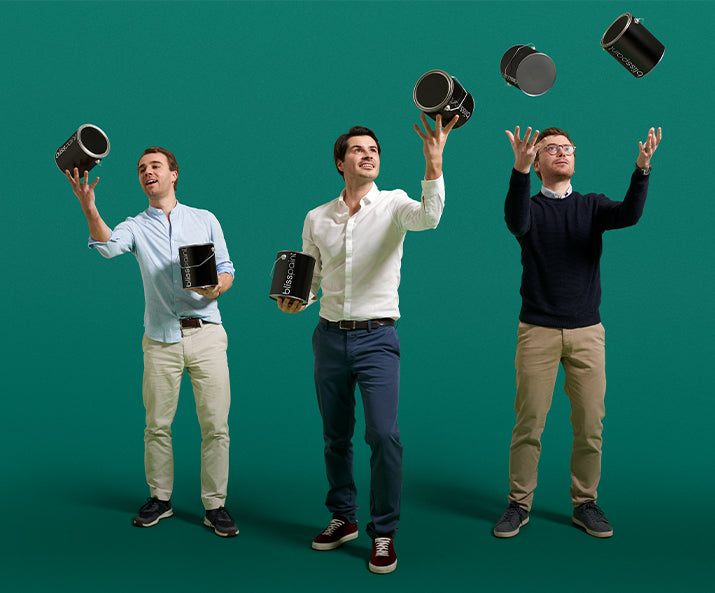 A healthy paint for a healthy, happy home
Highest standards
Our paint is the environmentally responsible option. It meets rigorous emissions standards and releases fewer pollutants.
Ultra-premium quality
Our paint is self-priming and applies evenly with a durable finish that resists dirt, grime and mildew.
Water Based
Water based paint provides greater colour retention over time, dries faster and produces fewer odours than the alternative.